Funny is as Funny Does
British Children's Laureate (have I mentioned lately that Canada needs one of these?), Michael Rosen has announced a new children's book award. Called the
Roald Dahl Award
, it will honour funny books.
This strikes us as a fine idea, and since my son finds Mélanie Watt's
Chester
enormously funny, we would like to announce that she is the first winner of the Euan O'Leary funny book award.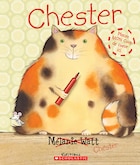 Any suggestions for other recent funny books we should be reading?